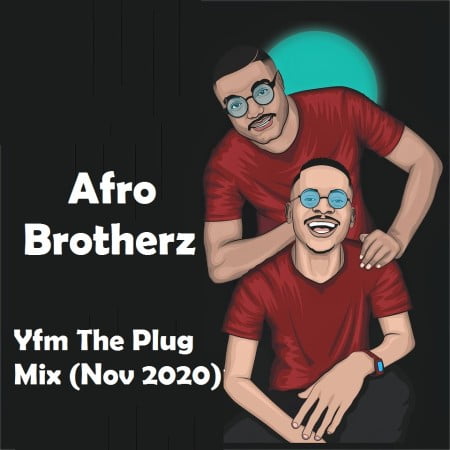 Afro Brotherz bring a new jam for November 2020 titled Yfm The Plug Mix.
They took turns mixing 19 amazing tracks into a single track as they first mixed Caiiro's remix of Jupiter and gift their fans with an unreleased track from their collection.
The last project from them was when they featured on Idlovukazi's track titled Nyandzaleyo.
As they appear with a new project, they make this new debut in making the long week a blessed one.
Afro Brotherz – Yfm The Plug Mix (Nov 2020)
1. Moo & Jo – Jupiter (Caiiro's Remix)
2. Afro Brotherz – Choir (Unreleased)
3. Afro Brotherz – Indlela (ft. Pixie L (Amasiko EP)
4. Afro Brotherz – Fatu (Unreleased)
5. Mailo Music & Afro Brotherz – Intliziyo Yam ft. Bukeka (Unreleased)
6. Afro Brotherz – Dune (Amasiko EP)
7. Afro Brotherz & Jim MasterShine – Rers Tech (Unreleased)
8. Afro Brotherz – Umoya ft. Indlovukazi (Accapella)
9. Trade Mark & Afro Brotherz – Uyapenga ft. Makhadzi (Rework)
10. Indlovukazi – Nyandzaleyo ft. Afro Brotherz
11. Afro Brotherz – Intervention ft. Tebza De Guitar (Unreleased)
12. Lebza TheVillain & Dr Morute – Se mama (Accapella)
13. Afro Brotherz – Abonondaba(instrumental)
14. Afro Brotherz – Mmino ft. Rose (Accapella)
15. Prince Kaybee ft. Msaki (Afro Brotherz Spirit Remix) (Reprice)
16. Afro Brotherz – Uppercut
17. Prince Kaybee – Imbokotho (Reprise)
18. Afro Brotherz – Own The Night ft. Prince Kaybee & Lady Zamar (Accapella)
19. Dlala Thukzin – Small Boys ft. Kususa & Bongo