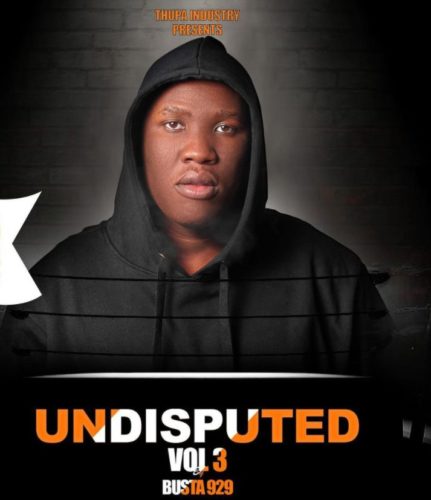 Busta 929 is set to drop his Undisputed Vol. 3 projects on the 25th of February 2022.
The project has shown to be holding 16 tracks featuring almost similar artists on the Vol. 2 edition.
His fans have also expressed how sad they are not for not seeing Mpura on the project. Busta 929 hs also promised to deliver more hits as usual just like he did on his Umsebenzi Wethu EP.
Getting the project ready for his fans, he starts with dropping the Tracklist
ALBUM: Busta 929 – Undisputed Vol. 3 (Tracklist)
1. Busta 929 – Inhlonipho (Interlude) ft. Almighty, Zwesh SA, Lolo SA & Xavi Yentin
2. Busta 929 – Uthando ft. Xavi Yentin
3. Busta 929 – Sivajola ft. Almighty & Lolo SA
4. Busta 929 – Darli ft. Xavi Yentin
5. Busta 929 – Ndiphe ft. Mzu M
6. Busta 929 – Lobola ft. Mzu M
7. Busta 929 – Maqondana ft. Zwesh SA, Dinky Kunene & Boontle RSA
8. Busta 929 – Idlozi ft. Navi Yentin
9. Busta 929 – Tsodiyo ft. Foralistic
10. Busta 929 – Enkwarin ft. Lolo SA
11. Busta 929 – Kwaze Kwamnandi ft. Zuma & Almighty
12. Busta 929 – Wena ft. Soulful G. & Mzu M
13. Busta 929 – Emaplankeni ft. Almighty, Lady Du, Bob Mabena, Lolo SA & SIA Mzizil
14. Busta 929 – Number 7 ft. Almighty, Xavi Yentin & Mafidzodzo
15. Busta 929 – Enjovment ft. Lady Du & Zwesh SA
16. Busta 929 – Dlala 929 ft. Nobantu Vilakazi
View this post on Instagram