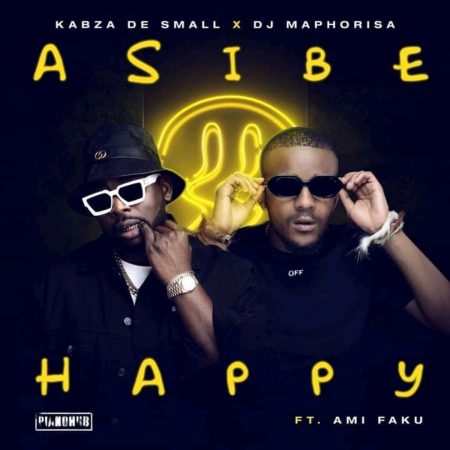 This year, South African Amapiano artists have been consistent, bringing the genre back to its rightful place. In 2021, a slew of hits were released, and many of them have a special place in their fans' hearts.
We've compiled a short and sweet list of the 50 Hottest Amapiano Songs of 2021.
1. Kabza De Small & DJ Maphorisa – Asibe Happy ft. Ami Faku: Piano Hub presented Asibe Happy performed by Kabza De Small and DJ Maphorisa featuring Ami Faku. The tune had been released two or three weeks prior and has since become ostensibly the most played recording in South Africa.
2. DJ Maphorisa & Tyler ICU – Izolo ft. Mpura, Daliwonga & Visca: DJ Maphorisa and Tyler ICU teamed up to deliver a new piece titled Izolo featuring Mpura, Daliwonga, and Visca. Coming off the album, they also dropped Banyana (Song) featuring Kabza De Small, Sir Trill & DJ Maphorisa.
3. Kabza De Small & DJ Maphorisa – Abalele ft. Ami Faku: Kabza De Small and DJ Maphorisa featured the voice of Ami Faku on a new track titled Abalele. They take their time in appearing as Scorpion Kings for the weekend and bring the soothing voice on the track.
4. Busta 929 & Mpura – Umsebenzi Wethu ft. Zuma, Mr JazziQ, Lady Du & Reece Madlisa: Busta 929 and Mpura connect for Umsebenzi Wethu. The new track released under Black is Brown Entertainment features Zuma, Lady Du, Reece Madlisa all of the same label and their boss Mr Jazziq.
5. DBN Gogo, Blaqnick & MasterBlaq – Khuza Gogo ft. Mpura, AmaAvenger & M.J: DBN Gogo, Blaqnick, MasterBlaq made the weekend better during their time as they drop a new track titled Khuza Gogo.
6. Mr JazziQ – Woza ft. Lady Du, Kabza De Small & Boohle: Mr JazziQ took the lead as he drops his voted track titled Woza featuring Lady Du, Kabza De Small, and Boohle. Holding the Amapiano geeks on this track, they team up just for your service.
7. Musa Keys – Vula Mlomo ft. Sir Trill & Nobantu Vilakazi: Musa Keys delivered a new track titled Vula Mlomo featuring Sir Trill and Nobantu Vilakazi. They ran this project together and keep debuting amazing tracks to keep the Amapiano genre going forward.
8. De Mthuda – John Wick ft. Ntokzin & Sir Trill: De Mthuda added a new debut with Ntokzin and Sir Trill on this one titled John Wick. As one of the most consistent artists of the year that did not go into extinction, they drop this track in the name of one of our favorite actors that never seem to give up despite anything.
9. Kwiish SA – LiYoshona ft. Njelic, Malumnator & De Mthuda: Kwiish SA took a track from his album and tagged it LiYoshona featuring Njelic, Malumnator, and De Mthuda. Kwiish SA rounded up things so early last year as he made his last appearance on East Network EP and Level 4 with efforts from De Mthuda. He opened the year with DJ Phat Cat on a track framed Ka Painelwa.
10. Felo Le Tee, Mellow & Sleazy – Bopha ft. Young Stunna, Kabza De Small & Madumane: Felo Le Tee, Mellow, and Sleazy crowned it with a new track titled Bopha featuring Young Stunna, Kabza De Small, and Madumane. Amapiano keeps getting its movement positively as artists keep debuting new tracks to it.
11. Kamo Mphela – Nkulunkulu (Full Song)
12. De Mthuda – Abekho Ready (Maplankeng Reshuffle) ft. Sir Trill & Da Muziqal Chef
13. DJ Obza – Idlozi Lami ft. Nkosazana & DJ FreeTz
14. Makhadzi – Ghanama ft. Prince Benza
15. Boohle – Wamuhle ft. Njelic, Ntokzin & De Mthuda
16. Blaq Diamond – Summeryomuthi
17. Cassper Nyovest – Siyathandana ft. Abidoza & Boohle
18. DJ Maphorisa & Tyler ICU – Banyana ft. Kabza De Small, Sir Trill & DJ Maphorisa
19. Dlala Thukzin – Phuze (Remix) ft. Zaba, Sir Trill, Mpura & Rascoe Kaos
20. Focalistic & Mr JazziQ – Gupta ft. Lady Du, Mellow & Sleazy
21. Semi Tee & MDU aka TRP – Isingisi ft. Sir Trill
22. DJ Cleo – Gcina Impilo Yam ft. Bucy Radebe
23. Pabi Cooper – Isphithiphithi ft. Reece Madlisa, Busta 929 & Joocy
24. Busta 929 – Mmapula ft. Mzu M
25. Killer Kau & Mr JazziQ – Amaneighbour ft. Reece Madlisa, Zuma & Thackzin DJ
26. Young Stunna – Adiwele ft. Kabza De Small
27. Dzo 729 – Ba Xolele ft. Guyu Pane & Young Stunna
28. ThackzinDJ, Sir Trill & Tee Jay – Yini Sdakwa ft. Nkosazana Daughter, Dlala Thukzin, Rascoe Kaos, Mpura & Moscow
29. DJ Stokie – Ipiano e'Soweto ft. Daliwonga & Nia Pearl
30. De Mthuda – Jola ft. Sino Msolo & Da Muziqal Chef
31. Beast – Pepereza ft. Zuma, Reece Madlisa, Busta 929 & DJ Tira
32. Felo Le Tee – Ngwana Mani ft. Madumane, Mpura, Kabza De Small & Visca
33. Reece Madlisa & Zuma – Sithi Sithi ft. Mr JazziQ & Busta 929
34. Busta 929 – Beke Le Beke ft. Zuma
35. Lady Du & DBN Gogo – Dakiwe ft. Mr JazziQ, Seekay & Busta 929
37. Zandimaz – Emathandweni ft. Nokwazi
38. Kwenyama Brothers & Mpura – Impilo Yase Sandton ft. Abidoza & Thabiso Lavish
39. DJ Jawz – Ringo ft. Bob Mabena, Reece Madlisa, Zuma & Busta 929
40. DJ Stokie – Superman ft. Kabza De Small, Masterpiece & Madumane
41. De Mthuda & Ntokzin – uMsholozi ft. MalumNator
42. Dlala Thukzin – Phuze ft. Zaba
43. De Mthuda & Sir Trill – Emlanjeni ft. Da Musical Chef
44. Mr JazziQ & 9umba – uLazi ft. Zuma & Mpura
45. Junior De Rocka & Lady Du – Catalia ft. Mr JazziQ, Mellow & Sleazy
46. DJ Obza & Bongo Beats – Mang'Dakiwe (Remix) ft. Makhadzi, Mr Brown & Leon Lee
47. Msaki, Kabza De Small & Focalistic – Mntakababa
48. DBN Gogo, Musa Keys & Dinho – Possible ft. Koek Sista, Lebza TheVillain, Makhanj & Optimist Music ZA
49. DJ Sumbody – Iyamemeza ft. Drip Gogo & The Lowkeys
50. Ntokzin – Steven Seagal ft. Sir Trill