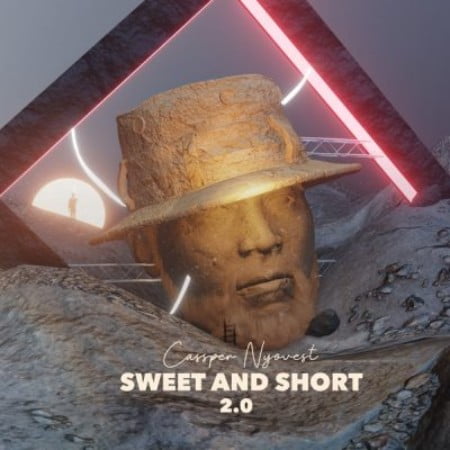 Bringing to you another series of the tracks you probably missed for the weekend, it hits another level this weekend.
The Weekend gets so packed with tracks from your favorites artists which probably made you skip some tracks.
Tracks like (number 05, 08, 16, 32, 34), delivered cool vibes to their fans in vibing for the weekend.
Ranging from Hip Hop, Afro House, and Amapiano, artists have been doing their best in representing the country.
In appreciating their efforts, we present some weekend tracks to you.
1. Moonchild Sanelly – Yebo Teacher
2. Moonchild Sanelly – Yebo Mama ft. Heavy K
3. DBN Gogo & Major League – Roboto ft. Reece Madlisa, Zuma & Luu (Leak)
4. 3TWO1 – Santorini Heist ft. Thato Saul & DJ Enzo
5. Cassper Nyovest – Fuck Me Harder ft. DJ Sumbody, Reece Madlisa, Thulz & Zuma 
6. Cassper Nyovest – uMacashelana ft. Boohle
7. Cassper Nyovest – Joy ft. Abidoza & Samthing Soweto
8. Cassper Nyovest – Piano Prayer ft. Abidoza, Kammu Dee, Lady Du, Ma Lemon & Semi Tee
9. ThackzinDJ, Tee Jay & Busta 929 – Khetha ft. Nomtee, Jessica LM & Le Sax
11. Sir Trill & Soa Mattrix – iPhutha (Bebengazi) [Leak]
12. Daloo Deey – Your Love ft. Emtee
13. Daloo Deey – The Struggle ft. Reason
14. King Zeph, Deep Sen & K-Sugah – Denzel Washington ft. Lannie Billion
15. Citizen Deep – Soyithini Lendaba ft. Mandisa
16. Mr JazziQ – Savanna ft MellowBone, Cyfred & FakeLove (Leak)
17. Mr JazziQ – Soft Life ft. Lady Du (Leak)
18. Mr JazziQ – Jabula ft. Lady Du & Abidoza (Leak)
19. Travis Greene – Hold on Me ft. Kirk Franklin & John P. Kee
20. Oscar Mbo – Defenders of House (Original Mix)
21. Abidoza, Mpura, Kweyama Brothers & Siboniso Shozi – Faka Ibhande
22. Costa Titch – Uthini ft. Blxckie & Phantom Steeze
23. Frank Casino – Forever ft. Riky Rick
24. Dr Duda, Mr JazziQ & Kings Of The Surface – Amandla ft. Jessica LM
25. AfroToniQ – Ngyazthandela ft. Gugu & Djemba
27. De Mthuda & Ntokzin – Emlanjeni ft. Sir Trill, Kwiish SA & Da Musical Chef (Leak)
28. 25K – Hustlers Prayer ft. A-Reece
29. Cassper Nyovest – Bhanoyi ft. Kammu Dee, Lady Du & Semi Tee
30. Spirit Of Praise – Ke Beya ft. Tshepiso
31. DJ Maphorisa & Focalistic – Trust Fund ft. Mpura, Mellow & Sleazy (Leak)
32. Mr JazziQ – Banyana Ba Dubai ft. Focalistic & Masterpiece YVK (Leak)
33. Mr JazziQ – Paranoia ft. Focalistic & DJ Maphorisa (Leak)
34. Mr JazziQ – International ft. Riky Rick & Focalistic (Leak)
35. Mr JazziQ – Rabaiki ft. Focalistic & DJ Maphorisa (Leak)
36. Mr JazziQ – Sikathele ft. Kamo Mphela (Leak)
37. Mr JazziQ – China ft. Zuma & Reece Madlisa (Leak)
38. Mr JazziQ – Khuzeka ft. Zuma & Reece Madlisa (Leak)
39. Mr JazziQ – Mastende ft. Focalistic & Mpura (Leak)
40. Mr JazziQ – We Bhuti ft. Lady Du (Leak)
41. Mr JazziQ – Don't Tatazel ft. Sir Trill (Leak)
42. Jessica LM – Kuzohlangana ft. Josiah De Disciple, ThackzinDJ, Tee Jay & 9umba
43. DJ Aroma, Mr Eazi & Nhlanhla Nciza – Breakup Riddim
44. Themba – Izindlu (Extended Mix) ft. Lizwi
45. DJ Steve – Tshikiza ft. Nokwazi
46. Echo Deep – Toro (Original Mix) 
47. Sje Konka – Makoti ft. Mgiftoz SA
48. Nice Life & DJ Tarico – Kanganhissa
49. Dr Bone – Phusha ft. MusiholiQ
50. Mas Musiq & Kabza De Small – Ngifuna Wena ft. Aymos, Myztr & TO Starquality
51. Eduardo XD – It Ain't Me TikTok (Remix) ft. DJ Abux
52. Boohle & Sir Trill – UThando Lwami (Uzozisola) ft. Kabza De Small
53. Felo Le Tee – Party Yam ft. Daliwonga & Kabza De Small
54. DJ Maphorisa & Kabza De Small – Uzoz' Azo Ngibona ft. Boohle
55. Boohle – Feed Your Soul ft. Kabza De Small & Josiah De Disciple
56. De Mthuda & Kabza De Small – Kanti Yini (Ngi Singili) ft. Boohle
57. Mas Musiq & Kabza De Small – Uzozisola ft. Boohle & Aymos
58. Mas Musiq & Kabza De Small – Ubusuk'Bonke ft. Bontle Smith
59. Mas Musiq – Wena K'phela ft. DJ Maphorisa, Kabza De Small & DJ Bucks
60. Mas Musiq – Lengoma ft. Kabza De Small
61. Big Xhosa & SOS – (Rap Battle)
62. Buddynice – Idlozi Lam (Original Mix)
63. ATK MusiQ – Pall Mall ft. Tumza Thusi
64. De Mthuda & Ntokzin – Jola ft. Malumnator & Sino Msolo
65. MDU aka TRP & Bongza – Cheque (Original Mix)
66. MDU aka TRP & Bongza – Angisawufuni ft. Tman Xpress & Kelvin Momo