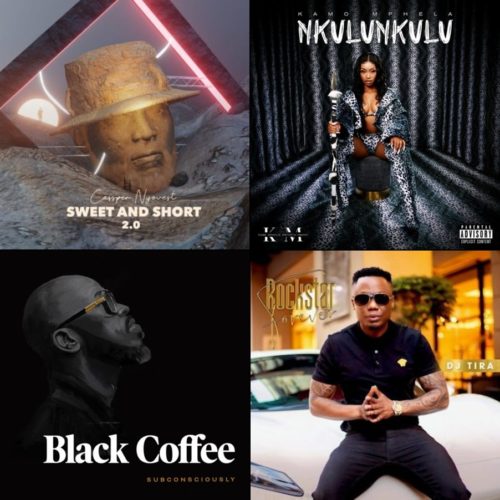 In making the list easier for you to access, we bring the released albums for the first half of 2021 (January-June).
South African artists have really been at the top of their game this year. Different albums ranging from Hip Hop to the current biggest genre in the industry, Amapiano. The likes of GQom, Gospel, and Afro House have also held their position in the industry as artists have also been keeping them up high with projects.
Projects like Subconsciously by Black Coffee, Sweet and Short 2.0 by Cassper Nyovest, Nkulunkulu by Kamo Mphela, and a few more made the first half interesting for South African music lovers and the whole world.
Blaklez also made it to the industry as the first Hip Hop project for 2021.
In playing their card well, they still keep the #movement going.
1. Afrotraction – The Launch of JazzYano 
2. Blaklez – Don't Mind The BS – EP
3. Nothing But – The Sound of Afro House, Vol. 11
5. Pro-Tee – Boom Base Volume 6 (Back To Bass)
6. DJ Qness – L'owe L'owe – EP
7. Various artists – Open Mic Grooves Vol. 2
9. King Deetoy, Kabza De Small & DJ Maphorisa – Petle Petle
10. Black Coffee – Subconsciously
11. Prince Kaybee – Better Days 
13. Malumnator – Moya Wam – EP
14. Cubique DJ – City Capricorn
15. MDU a.k.a TRP & Bongza – Boomerang – EP
16. PureVibe – Mood II Swing – EP
17. DJ Nova SA – Ezothando – EP
18. Busta 929 – Undisputed – EP
20. Soa Mattrix – Sounds Of Africa
21. Da Muziqal Chef – Muziqal Fiesta – EP
22. Mthandazo Gatya – Umonde EP
23. China Charmeleon & Andileany – African Child EP
24. Dr Tumi – The Great Shepherd
26. Semi Tee & MDU aka TRP – Tales Of The 2 Peers
27. Team Mosha – Expect The Unexpected
28. Trademark – Sgisha Soul Vol. 2
29. Pdot O – Cold Waters (Low Tides & Lost Tapes)
31. Various Artists – Rhythms of Zamunda
33. Souloho – Trouble Or Nothing 
34. Luu Nineleven – Umculo Wama Nothi
35. TNS – Phupholetu
36. Flvme – Jus' 4 Lil' Songs – EP
36. Prince Kaybee – The 4th Republic
37. Kid Fonque & Jonny Miller – Connected
39. Billydon Mokantas – Lost and Found – EP
43. Josiah De Disciple – Spirit Of Makoela Vol. 2 (The Reintroduction)
44. Sio – Features
45. Mr JazziQ – Party With The English
47. DJ Maphorisa & Tyler ICU – Banyana EP
48. Stilo Magolide – Infinite Melanin
49. Judy Jay – After the Storm
50. Kabza De Small, DJ Maphorisa & Tresor – Rumble In The Jungle
51. Emtee – LOGAN
52. Makhafula Vilakazi – Concerning Blacks – EP
53. Roque – My Sound
54. Kamo Mphela – Nkulunkulu – EP
56. Enosoul – In2deep – Volume 6
58. Joyous Celebration – Still We Rise Album: Live At The Joburg Theatre (Live)
59. A-Reece – Today's Tragedy, Tomorrow's Memory: the mixtape
60. Sphectacula & DJ Naves – 10 Years And Counting
63. Shekhinah – Trouble In Paradise
65. DJ Obza & Bongo Beats – Memeza
66. Ex Global & Krish – What's Next
67. Lady Zamar – Red
68. InQfive – Deeper Than Politics
70. Priddy Ugly – Never Pen Era – EP
71. Pro-Tee – Boom-Base Vol 7 (The King of Bass)
72. BlaQRhythm – In The Jungle – EP
76. Oskido – Back To The Future EP
77. DJ Nova SA – For The DJS Vol 1 EP
78. Caltonic SA – Yano Masters, Vol. 2
79. Maglera Doe Boy – 2Player [The Digital Score] 
80. Afro Brotherz – The Lands – EP
81. Blxckie – B4now
82. Pierre Johnson – Love Paradox – EP
83. Fezile Zulu – Izibusiso EP
84. Cassper Nyovest – Sweet & Short 2.0
85. Moonchild Sanelly – Yebo Teacher – EP
86. CIZA – Golden Boy Pack – EP
87. DJ Zinhle – Let's Dance – EP
89. DJ Tira – Rockstar Forever
91. T-Man SA – First Move – EP
92. Angelique Kidjo – Mother Nature
93. Toya Delazy – Afrorave Vol. 1