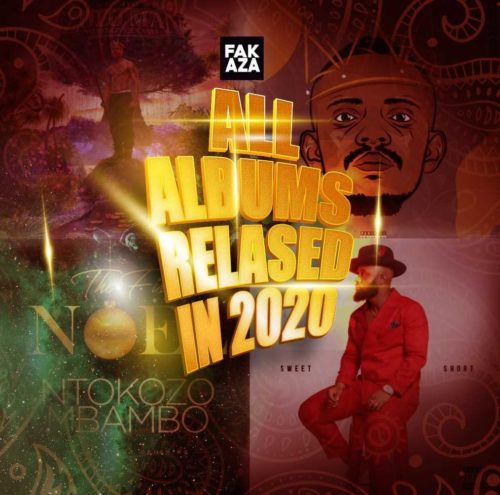 (SA Albums 2020 Download). As a Country, we showed how much we can stand together in hard times and still be productive.
The year started with no prior notice to tearing things apart with the pandemic, but the pandemic could not have its way on our artists as they did not stop releasing good music to us.
In this article, we bring all the albums released in 2020 starting from January to December.
1. Master KG – Jerusalema:
Open Mic Productions presented the brand new studio album performed by Afro House producer Master KG titled Jerusalema. The album was promoted by an array of singles especially the chart disturbing 2019 single Jerusalema which featured the vocals of Nomcebo.
2. ThackzinDJ – Ingqumbo Yeminyanya: The Wrath of Ancestors
One of the pioneers of the Amapiano sound ThackzinDJ returned with a new Ep titled Ingqumbo Yeminyanya EP to jumpstart 2020.
The new project features some of his closest vocalist and co-producers who helped him score a decent EP
3. Mthunzi – Selimathunzi
Here's the debut studio album titled Selimathunzi performed by Afro House sensation Mthunzi under the flagship of Sun-El Musician led EL World Music group.
The album was promoted by decent singles including radio hit Insimbi which just got a visual.
4. Blaq Diamond – Umuthi
Here's the debut album of music duo Blaq Diamond under the stables of Ambitiouz Entertainment. The duo has scored several hit singles since being signed under the label and come correct with a contemporary album that checks all brackets.
The album sees collaboration with label mate Sjava, Cici, while acapella group Thee Legacy also scored a collaboration.
5. Kabza De Small & DJ Maphorisa – Scorpion Kings Live:
Here's a new surprise album by DJ Maphorisa and Kabza De Small titled Scorpion Kings Live at Sun Arena.
The album was a surprise dropped and featured some of their most recent work ahead of their next headlined gig in April 2020. Collaborations included songs with Samthing Soweto, Cassper Nyovest, Howard, Corry Da Groove, Mlindo The Vocalist, Qwestakufet, Mas Musiq, and others.
6. DJ Bongz – Son Of God:
House veteran DJ Bongz has released a brand new album titled Son of God. The new album is a mix of GQom afro house and Afro tech songs and features mostly fast-rising musician
7. DJ Maphorisa // Blaqboy Music Presents – Made With Love:
DJ Maphorisa led Blaqboy Music and released a valentine package titled Made With Love.
The package contained two tracks one of which was with King Monada and Sha Sha, while the other was a collaboration between DJ Maphorisa and Vino Miller.
8. De Mogul SA – Lessons:
De Mogul SA dropped his debut studio album titled Lessons. The producer has been working harder in the studio crafting sounds and now fans can finally listen to the best of his work.
9. Saudi – The Drip's Leak:
Embattled (ex) Ambitiouz Entertainment rapper Saudi remitted a brand new project titled The Drip's Leak. The project arrived at a time where fans of Saudi have been yearning for a new LP from him.
10. Buddynice – House Of Elders:
House producer Buddynice dropped an 8 track long project titled House of Elders EP. The project contained mixes of different kinds that seats among the best of the best productions out at this present day.
11. Flex Rabanyan – Free Delivery:
You have 1 Free Delivery. Courtesy of Rabayeezy and Thumela Express Delivery. Hip Hop artiste Flex Rabanyan who has since taken to entrepreneur dropped a free 3 track EP titled Free Delivery
12. Mhaw Keys – The Outcast:
Mhaw Keys came clean with a much-anticipated project titled The Outcast EP. The Amapiano project featured collaborations with fellow producers Vigro Deep, Kabza De Small, De Mthuda with supporting vocals from rave of the moment Sha Sha, Howard, and other artistes
13. Berita – Songs in the Key of Love:
One of our favorite artists at Fakaza, Berita dropped a new scintillating album titled Songs in the Key of Love. The title of the album described the content of the project. Be prepared for the overdosage of love songs from the song bird.
14. Claudio x Kenza – Circle of Life:
EL World presented the brand new album performed by production duo Claudio and Kenza titled Circle of Life.
The album featured some of the finest vocalists the label can get hold of such as Mpumi, Simmy, Mthunzi, Soulstar, Sino Msolo, and others.
15. XtetiQsoul – X World:
Highly rated producer artiste XtetiQsoul pushed his anticipated EP X World. His work has been hailed as one of the best at this time and he surely proves that with this EP.
16. JazziDisciples & Mr JazziQ – Mr JazziQ 0303:
JazziDisciples' Mr JazziQ released his promised EP on the third of March. The EP is titled with the date in mind 0303 and joins a list of sick Amapiano projects that's been released over the past year.
Featured on the Mr JazziQ's debut project is Moonchild Sanelly, Vigro Deep, Killer Kau, TallarseTee, MDU aka TRP among other vocal sensations.
17. Josiah De Disciple & LennonPercs – J & L Nostalgia:
After Mr JazziQ released his own project Josiah De Disciple of JazziDisciples connected with LennonPercs to release a new project titled J & L Nostalgia.
The EP contained 7 solid mixes containing nostalgic Amapiano production nailed from the combination of Josiah De Disciple & LennonPercs. A solid mix that tells the potential future of the Amapiano sound.
18. Afro Brotherz – Music Is Culture:
The debut studio album "Music is Culture" crafted by production duo Afro Brotherz is finally hear. The album was promoted with the singer Umoya which featured vocalist Indlovukazi.
Music Is Culture is filled with typical ear candy productions akin to Afro Brotherz with collaborations with Rose, Jim Mastershine, Angelic, Indlovukazi, Boohle, Mr Chillax and Msanza L listed on the project that should draw acclaim.
19. King Monada – Ex Ya Drama:
Ex Ya Drama is the debut album performed by hardworking singer King Monada. The singer last year released more than 50 songs and hasn't been found wanting in 2020.
20. Campmasters – Gqom or Go Home II:
Gqom or Go Home II EP is the brand new EP performed by Gqom producers Campmasters.
The extended play featured new mixes with collaborations with DJ Tira, Mampintsha, and producers Rude Boyz.
21. Joyous Celebration – Joyous Celebration 24: The Rock (Live At Sun City) Praise Version:
22. Joyous Celebration – Joyous Celebration 24: The Rock (Live At Sun City) Worship Version:
23. Daliwonga – Uyang'testa:
24. Kabza De Small – Pretty Girls Love Amapiano vol 2 (2020):
25. MDU a.k.a TRP & Bongza – Pullup:
26. Mas Musiq & Aymos – ShonaMalanga:
27. DJ Maphorisa – Madumane:
28. DJ Maphorisa & Kabza de Small – Once Upon A Time In Lockdown: Scorpion Kings Live 2:
29. Lebza TheVillain – It's My House:
30. Lebza TheVillain & Afro Brotherz – Remember:
31. Asanda Mkhize – Entabeni ZoKhahlamba:
32. Focalistic – Quarantined Tarantino:
33. De Mthuda – Story To Tell Vol. 1:
34. Aubrey Qwana – Unplugged:
35. The Big Hash & 808x – Life + Times 2:
36. Vusinator – Public School Piano:
37. Priddy Ugly – Lockdown Extended:
38. Nasty C – Lost Files:
39.  Simphiwe Dana – Bamako:
40. Focalistic – Blecke:
41.  Pdot O – Cold Waters (Love Eternal):
42. Zingah – On A Different:
43. Josiah De Disciple & JazziDisciples – Spirits Of Makoela:
45. Maraza – Lost & Found:
47. Okmalumkoolkat – Bhlomington:
48. BosPianii – New Journey:
49. Mono T & Dr Moruti – One on One
50. Jobe London & Mphow69 – Sounds from the South:
51. Killer Kau & Retha – Tom & Jerry
52. Cuebur – The Bridge:
53. Various Artists – Amapiano Is A Lifestyle Vol. 2:
54. Magnetic DJs – Kings and Gods:
55. Semi Tee – I'm Only TweentyOne:
56. Kaygee DaKing & Bizizi – Kokota Piano (Amapiano Vol. 1):
57. Nasty C & DJ Whoo Kid – Zulu:
58.  Kabza De Small – I Am the King of Amapiano: Sweet & Dust:
59. Mpumi Mzobe – Nompumelelo:
60. Heavy-K – KHUSTA:
61. Kelvin Momo – Momo's Private School:
62. Major League & Abidoza – Pianochella!:
63. Aubrey Qwana – Imvula Mlomo:
66. Deep Sound Crew –
67. Colours of Sound – The Scarlet
68. Mr Thela & Mshayi – Make Cape Town Great Again:
69. Reece Madlisa & Zuma – Ama Roto:
70. Babes Wodumo – Indando Kazi
71. CaltonicSA & Team Mosha – 012 Dance:
72. Pro-Tee – Boom-Base Vol 5 (Definition Of Bass):
73. Quickfass Cass – Rookie of the Year:
74. Ricky Tyler – Small World:
76. Mampintsha – Bhut'Madlisa:
78. Flvme & Die Mondez – Red Light District:
80. Malachi – Wicked Romance:
81. Killer Kau – Game Changer:
82. Kwiish SA – East Network:
83. Mi Casa – We Made It:
84. Stilo Magolide – Mbuzi Level – Mixtape:
85. Mono T & Dr Moruti – Never Ready:
86. Blaklez – Bear Energy:
87. 1020 Cartel Presents: Various Artists – iSambulo Album:
88. Roque – CLEAN HOUSE, Pt. 2:
89. Nasty C – Zulu Man With Some Power:
90. Blaklez & Pdot O – Lost Diamonds:
91. DJ Tira – 21 Years Of DJ Tira:
92. TallArseTee  – Pampari EP (Tribute To Papers 707):
93. Afro Victimz – Pre-Eminent:
94. DBN Gogo & Dinho – Thokoza Cafe:
95. !Sooks – Pot Pourri:
96. Ami Faku & EA Waves – EA Waves Reimagines Ami Faku:
97. Afrikan Roots – Prophetic Rhythm:
99. Beast – It's A Rap:
100. Vuscare – Identity Purpose Destiny:
101. Nomcebo Zikode – Xola Moya Wam
102. Mr JazziQ – For The Babies:
104. Sje Konka – 298 Birthday:
105. Dee Xclsv – G-park Genius:
106. Kelvin Momo & Babalwa M – Bayeke:
107. MFR Souls – Musical Kings:
108. Vigro Deep – Rise Of A Baby Boy
109. Ginger Trill – From Potch With Love:
110. Boohle & Josiah De Disciple – Umbuso Wabamnyama EP (Just A Taste From The Album):
113. KayGee DaKing, Bizizi & DJ Taptobetsa – Double Dragon:
114. MKeyz – Isiko:
115. DJ Nova SA – Triangles
116. Buddynice – The World Is Watching:
117. Pro Tee & King Saiman – Bass & Trumpets:
118. Langa Mavuso – Langa:
119. Q Twins – The Gift Of Love:
120. Black Motion – The Healers:
121. Soul Kulture – Uhambo:
122. Loxion Deep & DJ Stoks – Xina:
124. DBN Gogo & Felo Le Tee – Shuck And Jaive:
125. Moonchild Sanelly – Nudes:
126. Cassper Nyovest – A.M.N (Any Minute Now):
127. Rose – Rose On A Ranch
128. ATK MusiQ – From Soweto To The World:
129. Nadai Nakai – Naked II (Deluxe Version)
130. Manu Worldstar – Molimo:
132. Nicole Elocin & Tyler ICU – Money Heist:
133. Kly – 2minutes2late:
134. Thebelebe – Jebson EP Part 3:
135. Rethabile Khumalo – Like Mother Like Daughter:
137. Various Artistes – Sumo Raps Vol.1:
138. Dbn Nyts – Kaybee & Lachoco:
139. Dlala Thukzin – Permanent Music:
140. Semi Tee – Piano Wave Project
141. Mnqobi Yazo – Impi:
142. Darque – Must Be Africa:
143. Goldmax – Music Saved Me:
144. Malumz On Decks – Afro Is Africa
145. Dinky Kunene – Speak Your Truth:
146. Oscar Mbo – For The Groovists:
147. Sje Konka & Zing Master – Pillow Talk:
148. Sje Konka – 100k Followers Appreciation:
149. Zameka – Drum Queen 90s:
150. Que – We Don't Play the Same Gqom
151. Howard – Love & Affection:
153. Chad Da Don – Dreams Don't Sleep:
154. Buddynice – Redemial King:
155. DJ Two4 & InQfive – Impedance EP:
157. J Molley – All Is Fair In Love & War:
158. Ranks ATM – Substance Music:
159. Boskasie – We Are Gold
161. Caiiro – Agora:
162. DJ Nitrox – Prince of Amapiano:
164. Kelly Khumalo – The Voice Of Africa:
165. Zanda Zakuza – Khaya Lam:
166. Costa Titch – Made In Africa:
167. Soweto's Finest – Tikoloshi Gang:
168. De Mthuda & Ntokzin – Ace Of Spades:
169. Prince Kaybee – Project Hope (Season 1):
170. Gaba Cannal – Great I Am:
172. Mr JazziQ & Busta 929 – Maba Jabul'abantu:
173. Riky Rick – Ungazincishi:
174. Pro-Tee, King Saiman & Deejay Zebra SA – Triple Threat
175. Benny Mayengani – Malambani (Page 10):
176. Oskido – Keep The Faith
177. DJ Kaymoworld – Small Town Rabbit:
178. Sho Madjozi – What A Life:
179. Da L.E.S – Caution To The Wind:
180. Yanga Chief – Pop Star:
181. Flvme – Dead Or Alive (DOA):
182. Xolly Mncwango – Jesus Is Enough:
183. Ayanda Ntanzi – According to Grace:
186. Mobi Dixon – The Chapel:
188. Busiswa – My Side Of The Story
189.  Zingah – Sessions At The Crib:
190. VA – Nothing But… The Sound of Afro House, Vol. 09
191. Buddynice – Bass & Emotions:
192. Mapara A Jazz – John Vuli Gate
193. T-Man – My Journey
195.  Prince Bulo – One Life:
196. Afro Brotherz – Amasiko:
197. uBizza Wethu – My Story:
198. ThackzinDJ – Minister of Gwam Gwam:
199. Thulasizwe – Ubizo:
200. Abidoza – The Last Dance:
201. Junior Taurus – Back to Love:
202. AKA – Bhovamania
203. Simmy – Tugela Fairy (Made Of Stars):
205. DJ Ace – ing Of Slow Jam:
206. Aewon Wolf – Moon:
207. Beyond Music – Mmino:
208. Josiah de Disciple & LennonPercs – ThrowBack
210. Master KG – Jerusalema (Deluxe):
211. VaShawn Mitchell – Home For Christmas:
212. DJ MasterShine – Light Of The Future:
213. Moozlie – Spirit Of An OG:214. Kid Tini – The Second Coming:
215. Mr Thela & Mshayi – Make Cape Town Great Again 2.0:
216.  Ntokozo Mbambo – The First Noel
217. DJ Sbu – Home Coming – The African Odyssey
218.  Ndlovu Youth Choir – Rise:
220. Major League & Abidoza – What's The Levol:
221. DJ Stokie – My Journey:
222. Samthing Soweto – Danko!:
223. L'vovo & Danger – Sgubhu OverDose:
226. Jazzuelle – Quantum States
227. DJ Big Sky – It's Time:
228. Tommy Flo – Fettuccine:
229.  Zakwe & Duncan – Zakwe Duncan
230. Gaba Cannal – Statements:
231. Sun-EL Musician – To The World And Beyond
232. Focalistic – Sghubu Ses Excellent:
234. Lebza TheVillain – House 116:
235. Khuzani – Ispoki Esingafi: