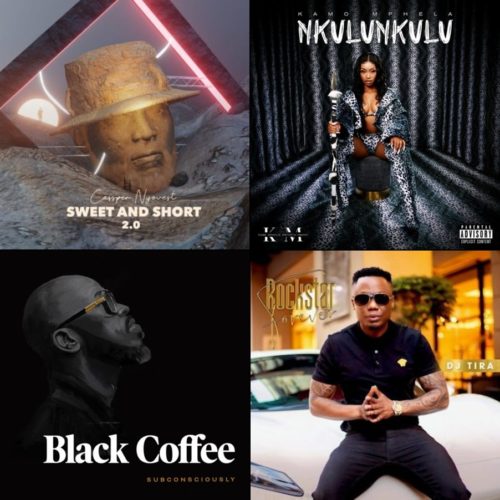 All South African Albums Released In 2021. South Africans got out of their shell this year after the lockdown in 2020. All suspended clubs and parties got the limp needed as everyone can party together now. This led to the production of great projects from South African artists, ranging from Amapiano, GQom, Hip Hop, Afro House, and Gospel music genres.
Projects like Subconsciously by Black Coffee, Sweet and Short 2.0 by Cassper Nyovest, Nkulunkulu by Kamo Mphela, and a few more made the first half of the year interesting for South African music lovers and the whole world.
Compiling the list of albums delivered this year, we leave no project untouched on the list.
1. Afrotraction – The Launch of JazzYano: The Amapiano producer opened the year first from his end by releasing his album that housed 8 tracks in it. After appearing at the beginning of the year with Black Motion on Everything (Full Version), he worked more and made it to the list as the first album project.
2. Blaklez – Don't Mind The BS – EP: Blaklez is the first Hip Hop artist to drop a project this year. He opened the EP with Turn The Lights Off featuring PdotO, under the production of Thapelo Mashiane. Other featured artists also made it to the history of his project.
3. Nothing But – The Sound of Afro House, Vol. 11: Nothing But collated 25 tracks and delivered it as The Sound Of Afro House Volume 11. The artist gathered together to deliver 25 Afro House to keep things bubbling.
4. Mr Brown – Rain On Me:  Open Mic Production artist, Mr Brown, took the first stage when he dropped Rain On Me. Makhadzi and Zanda Zakuza opened the album with Thandolwami Nguwe before releasing the next track to Ihobosha uNjoko and Liza Miro.
5. Pro-Tee – Boom Base Volume 6 (Back To Bass):  Pro-Tee delivered something huge once again titled Boom Base Volume 6 (Back To Bass). He packaged 25 GQom tracks into the folder and dished them out for his fans.
6. DJ Qness – L'owe L'owe – EP: DJ Qness submitted a mini project titled L'owe L'owe housing 5 Afro House tracks.
He brought the project as an Afro House again where he delivered it in such an amazing style to his fans.
7. Various artists – Open Mic Grooves Vol. 2: Open Mic Productions played a big role at the beginning of they as they drop their Volume 2 of Open Mic Grooves featuring various artists. Other artists like Nomcebo Zikode, Makhadzi, Dj Obza, Shuffle Muzik, Mapara A Jazz, Zanda Zakuza, DBN Gogo, Team Mosha, Master KG, Soul Kulture, and more, touched every track with perfection from their side.
8. Double Trouble – Calendar: Double Trouble dropped their big bang project titled Calendar. They opened the project with Maxy Khoisan on Ojola Lemang. Maxy Khoisan made more appearances on the album as she also appeared on Vavvum, Khava Ndwele, Tshinwe Na Tshinwe.
9. King Deetoy, Kabza De Small & DJ Maphorisa – Petle Petle: King Deetoy, Kabza De Small, and DJ Maphorisa drop a mini project titled Petle Petle. The last project from Kabza De Small and DJ Maphorisa during this time was their great feature on iLwa Ntombo by Bobo and I Want Your Peace featuring Bontle Smith.
10. Black Coffee – Subconsciously: Legendary Black Coffee released his first album project for the year titled Subconsciously. Jinadu opens the album on the first track titled Lost which came before Maxine Ashley and Sun-El Musician featured on the next track titled You Need Me. Black Coffee keeps representing the country well in making them proud musically in his way.
11. Prince Kaybee – Better Days: Prince Kaybee owned his album back as he drops Better Days in a new style. The album was initially released in 2015 but was taken down because the license deal had expired and all. Prince Kaybee brings the project as the owner of the Master this time.
12. Kwiish SA – Umshiso: Kwiish SA came again as he carefully packaged 12 tracks and named it Umshiso. He played a very big role in the industry as one of the Amapiano geeks in the country. Debuting his latest album shows how much he has in fans in mind.
13. Malumnator – Moya Wam – EP: Malumnator delivered his first Amapiano project for the year titled Moya Wam. He carefully arranged 7 great tunes into a single folder and dished it out to his fans. De Mthuda and Ntokzin are known to be cool friends with him as they handled greater projects together.
14. Cubique DJ – City Capricorn: As Cubique DJ enjoyed his birthday month, he supplies the first Afro House project City Capricorn. He delivered just as expected in this album after changing his mind from dropping an EP instead. This made it his latest album since the last six years he released an album.
15. MDU a.k.a TRP & Bongza – Boomerang – EP: MDU a.k.a TRP and Bongza delivered a fresh project to their fans titled Boomerang. They made it so short and hot as they delivered just three tracks namely Take It Easy, Boomerang, and Settlement.
16. PureVibe – Mood II Swing – EP: PureVibe brought his latest project titled Mood II Swing. Making it his first project for the year, he carefully delivers 4 tracks in the EP for their fans. Opening the EP, he opened it Neeol and Tooly B on This Emotion before delivering forming a combo with Pro Monate on Hlasela (Boshigo).
17. DJ Nova SA – Ezothando – EP: DJ Nova SA released a new project titled Ezothando. The EP housed 7 great Amapiano tracks with just Bongie Da Vocalist and Queen Vosho as the featured artists.
18. Busta 929 – Undisputed – EP: Busta 929 released his long-awaited EP project in February. The EP housed 6 great tracks with artists like Focalistic, Reece Madlisa, Zuma, and a few more on it.
19. Spumante – Time Travel: Spumante released a big body of work album titled Time Travel. He shows another massive side of him as he creatively packaged 14 tracks into a single folder. Artists like Kabza De Small, Mhaw Keys, Daliwonga, and a few more appeared on the album as they supported in making the project a hit work.
20. Soa Mattrix – Sounds Of Africa: Soa Mattrix welcomed the year with his massive album titled Sounds Of Africa. The album housed 17 tracks with great artists like Sir Trill, Hulumeni, Shaun 101, and a few more as they played their part in making the album a great one.
21. Da Muziqal Chef – Muziqal Fiesta – EP
22. Mthandazo Gatya – Umonde EP
23. China Charmeleon & Andileany – African Child EP
24. Dr Tumi – The Great Shepherd
26. Semi Tee & MDU aka TRP – Tales Of The 2 Peers
27. Team Mosha – Expect The Unexpected
28. Trademark – Sgisha Soul Vol. 2
29. Pdot O – Cold Waters (Low Tides & Lost Tapes)
31. Various Artists – Rhythms of Zamunda
33. Souloho – Trouble Or Nothing 
34. Luu Nineleven – Umculo Wama Nothi
35. TNS – Phupholetu
36. Flvme – Jus' 4 Lil' Songs – EP
36. Prince Kaybee – The 4th Republic
37. Kid Fonque & Jonny Miller – Connected
39. Billydon Mokantas – Lost and Found – EP
43. Josiah De Disciple – Spirit Of Makoela Vol. 2 (The Reintroduction)
44. Sio – Features
45. Mr JazziQ – Party With The English
47. DJ Maphorisa & Tyler ICU – Banyana EP
48. Stilo Magolide – Infinite Melanin
49. Judy Jay – After the Storm
50. Kabza De Small, DJ Maphorisa & Tresor – Rumble In The Jungle
51. Emtee – LOGAN
52. Makhafula Vilakazi – Concerning Blacks – EP
53. Roque – My Sound
54. Kamo Mphela – Nkulunkulu – EP
56. Enosoul – In2deep – Volume 6
58. Joyous Celebration – Still We Rise Album: Live At The Joburg Theatre (Live)
59. A-Reece – Today's Tragedy, Tomorrow's Memory: the mixtape
60. Sphectacula & DJ Naves – 10 Years And Counting
63. Shekhinah – Trouble In Paradise
65. DJ Obza & Bongo Beats – Memeza
66. Ex Global & Krish – What's Next
67. Lady Zamar – Red
68. InQfive – Deeper Than Politics
70. Priddy Ugly – Never Pen Era – EP
71. Pro-Tee – Boom-Base Vol 7 (The King of Bass)
72. BlaQRhythm – In The Jungle – EP
76. Oskido – Back To The Future EP
77. DJ Nova SA – For The DJS Vol 1 EP
78. Caltonic SA – Yano Masters, Vol. 2
79. Maglera Doe Boy – 2Player [The Digital Score] 
80. Afro Brotherz – The Lands – EP
81. Blxckie – B4now
82. Pierre Johnson – Love Paradox – EP
83. Fezile Zulu – Izibusiso EP
84. Cassper Nyovest – Sweet & Short 2.0
85. Moonchild Sanelly – Yebo Teacher – EP
86. CIZA – Golden Boy Pack – EP
87. DJ Zinhle – Let's Dance – EP
89. DJ Tira – Rockstar Forever
91. T-Man SA – First Move – EP
92. Angelique Kidjo – Mother Nature
93. Toya Delazy – Afrorave Vol. 1
94. Rhass & Mapressa – 2 New Beginnings – EP
96. Holly Rey – Unconditional – EP
97. Benny Afroe – Yours Truly – EP
98. Busta 929 – Undisputed Vol. 2
100. Mzulu – Yenzeka
101. 25K – Pheli Makaveli
102. The Lowkeys – Dali & Stoko – EP
103. Various Artists – Amapiano Now
104. Enoo Napa – Mind Control EP
105. DBN Gogo & Unlimited Soul – Break Through – EP
106. Gigi Lamayne – Mermaids and Stuff
108. Shuffle Muzik – Sgubu Sa Mapiano
109. Dr Moruti – Chosen People – EP
110. MashBeatz & Thato Saul – If You Know, You Know
111. Dr Duda – The Prescription – EP
112. Benny T – Black Technology – EP
113. Mbzet & Kronic Angel – New Beginnings – EP
114. Mr JazziQ – For The People (Leak)
115. Oscar Mbo – Defenders Of House – EP
116. Bob Mabena – Nongoloza 3.0 – EP
117. Da Capo – Return to the Beginning
118. Zulu Mkhathini – Spirit of Ubuntu
119. Una Rams – Hold Me When It's Cold (Mixtape)
120. Anzo – 3310 – EP
121. Ntosh Gazi – Amnandi Amapiano – EP
122. Amu Classic & Kappie – One For The World
123. Dr Bone – iGagu – EP
124. Shimza – Amapiano Afrotech Remixes – EP
126. Black Motion – Talking To The Drums
127. T-man Xpress – Comofyder EP
128. Zahara – Nqaba Yam
129. Dladla Mshunqisi – Umshunqo Reloaded – EP
131. Rethabile Khumalo – Inkemba – EP
132. InQfive – Burning Spear (Vol.2) – EP
133. Heavy K & Mbombi – Thandazela – EP
134. Vico Da Sporo – Underrated
136. General C'mamane & Cultivated Soulz – Ushunii Against The World – EP
137. Gobi Beast & TLT – Yung Yanos
138. DJ Tpz – Music Heals 3 – EP
140. Kammu Dee – Gabhadiya – EP
142. Khanya Greens – Piano Journey
143. Nobuhle – IMVULA
145. Joey Fatts – Joey The Album – EP
146. Focalistic – President Ya Straata – EP
147. Villager SA – Lust For Destruction Chapter 3 – EP
148. DJ Owami – Ready
149. Makwa – 16S91 – EP
150. Die Mondez – In The Trap – EP
151. Emotionz DJ – Champions League – EP
152. Costa Titch & AKA – You're Welcome
153. Mapara A Jazz – Piano Offering
155. Gaba Cannal – Visionary Episode 1
156. Cici – Sukulila
158. Aymos – Yimi Lo
159. Big Zulu – Ichwane Lenyoka
160. Godfada Yekasi – god Album
161. Ntokzin – Busisiwe
162. Kwiish SA – The Jazz Moods EP
163. Sun-El Musician – African Electronic Dance Music – EP
164. Busta 929 – Umsebenzi Wethu EP
165. Ecco the Beast – Beauty and the Beast EP
166. DJ Jaivane – XpensiveClections Vol 41 Mix
168. Donald – Dreams
169. De Mthuda – Landlord
172. Josiah De Disciple & LennonPercs – THROWBACK DISK 2
173. Buddynice – Back in Time EP
174. KayGee DaKing, Bizizi & Mapara A Jazz – New Government – EP
175. TRESOR – Motion
176. Skye Wanda – Eighty6 – EP
177. DJ Switch – Like Water ft. PdotO (Mixtape)
178. DJ Melzi – A 19 Year Old King
180. Masterpiece YVK – Iy'poko EP
181. Soweto's Finest – 15 Years Of Soweto's Finest EP
182. Winnie Khumalo – Iphakade Lami EP
183. DJ Cleo – Eskhaleni Yanos Vol 1
184. Chad Da Don & Pdot O – Matthew 22:14 EP
185. 031Choppa – Kwamashu To Ejozi
186. T-Man – Best of Best
188. Reece Madlisa & Zuma – Amaroto Vol.2 (Kwaaito Edition)
189. Babalwa M – Aluta Continua
190. Sjava – Umsebenzi (Gold Deluxe)
192. Lemon & Herb & Miči – The Sound Of Light EP
193. Toby Frvnco – PIANOVILLE – EP
194. Mthandazo Gatya – New Age Healer
195. Khanyisa – Soft – EP
196. Chad Da Don – Sativa – EP
197. Mnqobi Yazo – iStiff – EP
198. DJ Stokie – Soke S'Bone – EP
199. Slenda Da Dancing DJ – The Journey EP
200. Aubrey Qwana – Amalobolo – EP
201. Dlala Thukzin & Funky Qla – Summer Banger EP
202. Afro Brotherz – The Lands Part 2 EP
203. Kabza De Small & MDU aka TRP – Pretty Girls Love Amapiano 3 (Part 4)
204. Various Artists – Open Mic Remixes 2021
205. Mobi Dixon – Back In Time ft. Amanda Black
206. Record L Jones – Mr Educated Sghubu EP
207. Mobi Dixon – When House Was House
208. Sdala B & Paige – Ngiyazifela Ngawe Deluxe
209. Musa Keys – TAYO
210. The Big Hash – Aries: A Precursor To Heartbreak Hotel
211. Msaki – Platinumb Heart Beating
212. Vigro Deep – Far Away From Home
213. Kabza De Small & MDU aka TRP – Pretty Girls Love Amapiano 3 (Part 3)
214. Ubuntu Brothers – Eye For An Eye
215. Muziqal Tone – 10 Free Tracks Vol 2
216. Zama Khumalo – In The Beginning
217. Niniola, GuiltyBeatz & OSKIDO – Lagos to Jozi – EP
218. Worst Behaviour – It's About Time EP
219. DJ Manzo SA & Tumisho – House of Hits, Vol. 5
220. DJ Buckz – Unboxed EP ft. Vigro Deep
221. Dlala Thukzin – Permanent Music 2 EP
222. MDU aka TRP & Kabza De Small – Pretty Girls Love Amapiano 3 (Part 2)
224. Skhandaworld – Welcome To The Planet
226. Flvme – While You Wait EP
227. Kaygee DaKing & Bizizi – Kwasuka Lokho EP
228. L-Tido – Pressure EP
229. Kabza De Small & MDU aka TRP – Pretty Girls Love Amapiano Vol 3 (Part 1)
230. Soa Mattrix & DJ Maphorisa – Tintswalo
231. THEMBA – Modern Africa, Part 1 (Ekhaya)
232. YoungstaCPT & Shaney Jay – Dreams Dont Pay Bills
233. Wordz – Product Of A Praying
234. A-Reece, Jay Jody & Blue Tape – heaveN caN waiT: thE narroW dooR vol. 1 
235. Babes Wodumo – Crown
236. Caltonic SA – Terminator 2 (The Rise of the Machine)
237. China Charmeleon – The Third
238. De Mthuda – The Landlord 2.0
240. Fiso El Musica – 10 Tracks
241. Heavy K – Respect The Drumboss 2021 Part 1 (10 Years Of Heavy-K Edition)
242. Kabza De Small & MDU aka TRP – Pretty Girls Love Amapiano Vol 3 (Part 5)
245. Luudadeejay, Balcony Mix Africa & Major League DJz – Groovers Prayer
256. Major League DJz – Outside
257. Ntencane – Incane Lembobo
259. Sparks Bantwana – The Return Of Sparks Bantwana
260. ThackzinDJ & Tee Jay – 1 000 000 Amapiano Seconds (Kings Of The Surface)
261. Zakes Bantwini – Ghetto King
262. Bello no Gallo – Khula EP
263. Bongo Beats – Bangiloyile – EP
264. Bongza – Yashintsha Impilo – EP
265. DJ Big Sky – The Grootman Groove EP
268. Joocy – Good Days EP
269. Kenza – Fly Away EP
270. Loxion Deep – Exclusive Vibes, Vol. 2
272. Mellow & Sleazy – Kwa Kwa EP
273. Mvzzle – Sonke EP
274. Nia Pearl – Dreamers & Believers – EP
278. Various Artists – Black Is Brown Compilation Vol.1